Calling the Competition on the Carpet

What makes a Magic Carpet® lift the best conveyor lift for the winter sports industry?
The Boardwalk® is the most rugged and best performing conveyor lift, Magic Carpet Lifts has the most experience making conveyor transport systems, they are most responsiveness to customers after the sale, and their Boardwalk® is priced very competitively. But don't take our word for it, talk to our customers, and then talk to our competitors, and be sure to ask how many of their "innovations" resulted from copying us.
Why pay more for a conveyor lift than other surface lifts such as handle or rope tows?
You will receive a quick return on your investment and it will offer the highest capacity when compared to alternate surface lifts. For tubing applications, the conveyor moves more riders and opens available terrain for additional lanes. Ski schools can increase class size without affecting lesson quality. Fewer instructors are required, while still providing a quality learning experience. This user-friendly design is also extremely safe for riders and operators. Talk to the kids and other novice skiers, especially those who have used other types of surface lifts…as well as the lift operators and ski instructors.
What does Magic Carpet Lifts/RMCE, Inc. do to earn its "Buy the Original. Buy the Best" designation?
They designed, built, and installed Boardwalk®, the first conveyor ski lift, in 1990. Since then, they have continued to listen to their customers and improve products based on their ideas and insights. Being the first doesn't mean much today if you don't continue innovating to be the best.
Without compromising the inherent strength and performance of their original design of the Boardwalk®, Magic Carpet has improved safety, manufacturing techniques, ease of installation, and electrical design so that the costs have actually decreased in both the initial purchase price and installation costs.

Speaking of "original," what happened to the original Magic Carpet® lift that required a concrete foundation?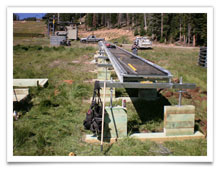 Their customers said they wanted a less expensive surface lift that was easier and faster to install and relocate. They listened and redirected their efforts accordingly. Today's foundation-less design is terrain following and can be installed in a matter of days (depending on system length and size of crew). If desired, it can also be stored off season.
They can customize their Boardwalk® for specialized applications, such as spanning wetlands or bridge installations.
Buy the Original. Buy the Best.